January, '17
After 4 years as "The Paul Guy" in The Sun Kings, I can finally stop growing out my bangs (they were almost there, too) having played my final gig as a regular member of the band at Club Fox on New Year's Eve (I'll nominally remain on the roster as a substitute member for occasional emergencies, and have called dibs on center field and batting 3rd once the SKs softball team finally gets off the ground – there are enough guys between active members and alumni to cover every position now). All is well and on good terms, it's just time for me to do some other things, and this was a great show for me to end on, being always a friendly and nice sounding room & stage there in Redwood City, at The Sun Kings' Cavern Club. 
My sincere thanks to Drew Harrison for having me into the group in the first place, and for his very hard work away from the stage to keep the band working, and in such good venues. Likewise to Jennifer Halpern for all her logistical help along the way. 
It was my privilege to play with all the guys, and have the chance to recreate The Beatles music as faithfully as we were able to, and to sing with Drew these several years, the best Lennon around. I am grateful, too, for all the camaraderie and laughter during my run, not least of which with my "George & Paul" backing vox mic-mate Bcoe (aka Bruce Coe), with whom much merriment was enjoyed, both onstage and off. 
My thanks and appreciation, as well, to Steve "I can name that song in one note, and play the entire drum part perfectly from memory, even though I've never played it before, hate the song and the band who played it, and haven't heard the recording since 1977" Scarpelli, the band's best instrumentalist, possessing a virtually eidetic musical memory, and who keeps everything very, very stable for his bandmates. Steve may loathe The Captain & Tennille, but by God, he damn well knows the part for Muskrat Love, whether he wants to or not! Indeed, he knows ALL drum parts of EVERY song. A constant source of amusement and wonder for me, that. 
Best wishes and thanks, also, to Ruben Salis and lately Michael Barrett for their significant efforts at the keys station, a very complex, expensive, and unenviable role, and to Xavier Merono for all the road and sound work he did for most of the time I was with the band (and Jesse, too, for a time). 
Finally, I'd like to thank the fans of the group (particularly Gina for all those pics and all that dancing!) who made the shows we played always feel so vital and well-attended. My very best wishes to band and fans alike as the group enters its next phase. 
See you on the softball diamond! 
Your Most Humble and Erstwhile Paul Guy,
Jim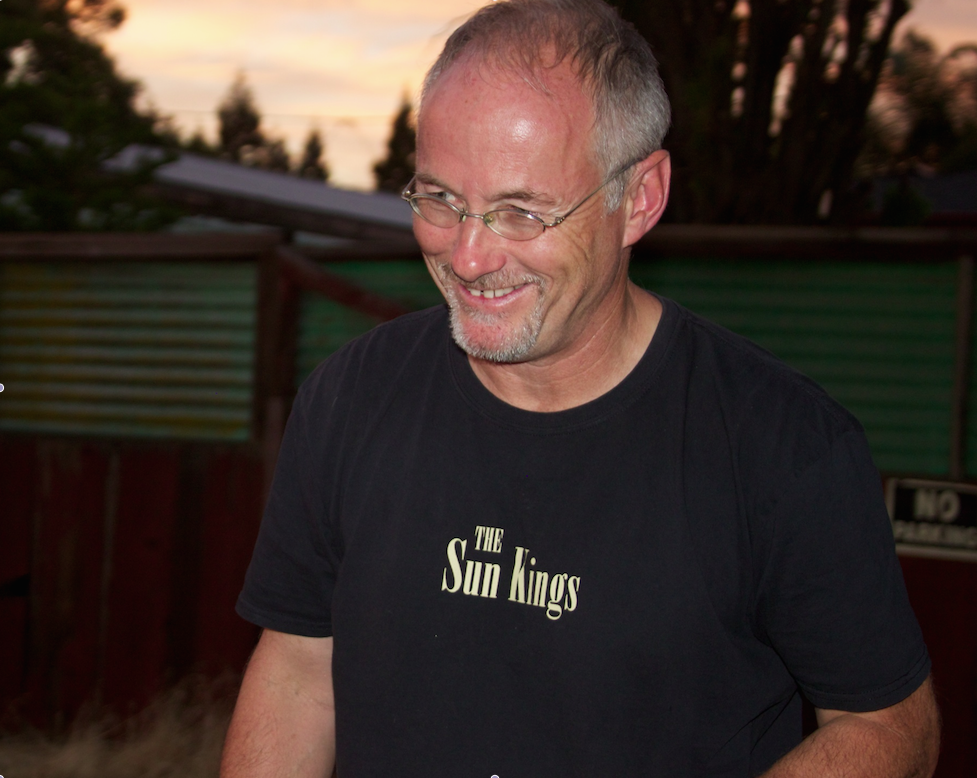 Photo by Gina Ramirez
---
I'm happy to announce that,
beginning in March, I'll be joining Drew Harrison, my associate and the John Lennon voice from Three of Us, Two of Us, and The Beatles Appreciation Society (
listen here
), in The Sun Kings, the S.F. area
Beatles
tribute band that he founded some 12 years ago, as the McCartney voice and bass guitarist.

Drew & I have an easy singing rapport, and he's a fine singer who sounds uncannily like Lennon without needing mimicry to do it (he can do that, too, for extra oomph, when called for), so this is a chance for me to revisit the Beatles catalog I know so well, and to really sound a lot like the Beatles when performing it, because the Lennon voice is the key to really sounding like The Beatles, especially on the early songs, and there just aren't many guys that do sound like him (I've never actually known another one),
so this is a unique opportunity.

Adding to the authenticity, drummer Steve Scarpelli is meticulous about the Ringo parts (very good and lucky for me as the bassist), as is lead guitarist Bruce Coe in the George Harrison chair (voice and guitar), and Ruben Salis handles the multi-tasking of all the orchestration and keys, some singing and other incidentals - a tough job, making the playing of the later songs possible.

The Sun Kings have a big following, and play some very nice theaters, art & wine type festivals, fairs, that sort of thing, so I'm stepping into a situation with a ready-made audience and some great venues (and a lot of gigs).

Please visit The Sun Kings website here (
www.thesunkings.com/
) and add yourself to the mailing list there if you'd like, and/or see the calendar (I'll be including Sun Kings dates in my own monthly mailer, as well).